You must be
16 or over
to participate in the Brickset Forum. Please read the
announcements and rules
before you join.
Review: 75139 Battle on Takodana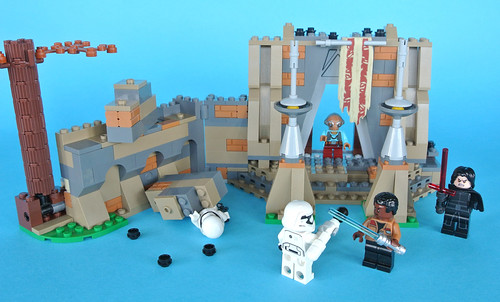 It is a well known fact that LEGO likes to scatter the most desirable minifigures in each range across a number of sets, thereby encouraging fans to purchase multiple models in order to collect all their favourite cast members. I was therefore very surprised and pleased when 75139 Battle on Takodana was revealed as three of the most important characters from the film are included: Kylo Ren, Finn and Maz Kanata.
Not only that but a brilliant range of architectural details and play features are packed into the model, allowing you to faithfully recreate many of the scenes which take place on Takodana. However, it is not flawless and the emphasis upon destructive play may not appeal to everybody. Read on and see what you think!
© 2016 Brickset.com. Republication prohibited without prior permission.
Recent discussions
•
Categories
•
Privacy Policy